Ordinary Academicians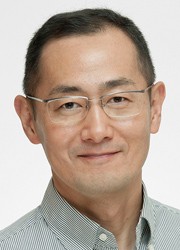 Date of birth 04 September 1962
Place Higashiōsaka, Osaka, Japan (Asia)
Nomination 23 January 2013
Field Stem cell biology
Title Professor; Director of the Center for iPS Cell Research and Application; Representative Director, CiRA Foundation; Nobel Laureate in Physiology or Medicine, 2012
Most important awards, prizes and academies
Awards and prizes: JSPS Prize, Japan Society for the Promotion of Science (2007); Robert-Koch Preis, Germany (2008); The Special Prize for Science and Technology, the Minister of Education, Culture, Sports, Science and Technology, Japan (2008); Time magazine's most influential people in the world, USA (2008); Medals of Honor from the Japanese Government ("Shiju Hosho", Medals with Purple Ribbon), Japan (2008); Canada Gairdner International Award, The Gairdner Foundation, Canada (2009); Albert Lasker Basic Medical Research Award, USA (2009); March of Dimes Prize in Developmental Biology, USA (2010); 100th Imperial Prize and Japan Academy Prize, The Japan Academy, Japan (2010); Person of Cultural Merit, Japan (2010); 26th annual Kyoto Prize in Advanced Technology, Japan (2010); Balzan Prize for Stem Cells, Italy (2010); BBVA Foundation Frontiers of Knowledge Award in the Biomedicine category, Spain (2010); King Faisal International Prize for Science (Medicine), Saudi Arabia (2011); Wolf Prize in Medicine, Israel (2011); Millennium Technology Award, Finland (2012); Nobel Prize, Physiology or Medicine, Sweden (2012); Breakthrough Prize in Life Sciences, Milner Foundation, Isle of Man (2013). Academies: International Society for Stem Cell Research, Past President; National Academy of Sciences, Foreign Associate; American Association for Cancer Research, Fellow; The Japan Academy, Member; The Japan-Sweden Society, Honorary Member; National Academy of Medicine, Honorary Member; Academy of Sciences, Institute de France, Foreign Associate; EMBO, Associate Member; The Pontifical Academy for Life, Member.

Summary of scientific research
Dr. Yamanaka's research focuses on ways to generate cells resembling embryonic stem cells by reprogramming somatic cells. He seeks to understand the molecular mechanisms that underlie pluripotency and the rapid proliferation of embryonic stem cells – they can become any type of cell in the body – and to identify the factors that induce reprogramming.
Pluripotent stem cells can be generated from adult mouse-tail tip fibroblasts and adult human fibroblasts by the retrovirus-mediated transfection of four transcription factors, Oct3/4, Sox2, c-Myc, and Klf4. Professor Yamanaka has designated these cells as induced pluripotent stem (iPS) cells. iPS cells are indistinguishable from embryonic stem cells in morphology, proliferation, gene expression and teratoma formation. When transplanted into blastocysts, mouse iPS cells derived from mouse fibroblasts can give rise to adult chimera mice, which are competent for germline transmission. These results are proof-of-principle that pluripotent stem cells can be generated from somatic cells by the combination of a small number of factors.
Professor Yamanaka demonstrated that not a single "master" transcription factor, but rather a combination of factors, are important for reprogramming of cell fate from one somatic lineage back to a pluripotent state. However, the molecular mechanism of its process remains unclear. Improving our understanding of this mechanism is essential to determine the best induction protocols for each downstream application of iPS cell technology, such as disease modeling, drug screening and cell therapy.
Latest publications
Tomoda, K., Takahashi, K., Leung, K., Okada, A., Narita, M., Yamada, N.A., Eilertson, K.E., Tsang, P., Baba, S., White, M.P., Sami, S., Srivastava, D., Conklin, B.R., Panning, B., and Yamanaka, S. (2012) Derivation conditions impact x-inactivation status in female human induced pluripotent stem cells. Cell Stem Cell 11, 91-99; Yamanaka S. (2012) Induced pluripotent stem cells: past, present, and future. Cell Stem Cell. 10(6):678-84; Hayashi, Y., Hsiao, E.C., Sami, S., Lancero, M., Schlieve, C.R., Nguyen, T., Yano, K, Nagahashi, A., Ikeya, M., Matsumoto, Y., Nishimura, K., Fukuda, A., Hisatake, K., Tomoda, K., Asaka, I., Toguchida, J., Conklin, B.R., and Yamanaka, S. (2016) BMP-SMAD-ID promotes reprogramming to pluripotency by inhibiting p16/INK4A-dependent senescence. Proc Natl Acad Sci U S A 113(46): 13057-13062; Mandai, M., Watanabe, A., Kurimoto, Y., Hirami, Y., Morinaga, C., Daimon, T., Fujihara, M., Akimaru, H., Sakai, N., Shibata, Y., Terada, M., Nomiya, Y., Tanishima, S., Nakamura, M., Kamao, H., Sugita, S., Onishi, A., Ito, T., Fujita, K., Kawamata, S., Go, M.J., Shinohara, C., Hata, K., Sawada, M., Yamamoto, M., Ohta, S., Ohara, Y., Yoshida, K., Kuwahara, J., Kitano, Y., Amano, N., Umekage, M., Kitaoka, F., Tanaka, A., Okada, C., Takasu, N., Ogawa, S., Yamanaka, S., and Takahashi, M. (2017) First-in-human Clinical Study of Transplantation of Autologous iPSC-Retinal Pigment Epithelial Cell Sheet for Wet Age Related Macular Degeneration. The New England Journal of Medicine 376(11): 1038-1046; Rand, TA., Sutou, K., Tanabe, K., Jeong, D., Nomura, M., Kitaoka, F., Tomoda, E., Narita, M., Nakamura, M., Nakamura, M., Watanabe, A., Rulifson, E., Yamanaka, S., and Takahashi, K. (2018) MYC Releases Early Reprogrammed Human Cells from Proliferation Pause via Retinoblastoma Protein Inhibition. Cell Reports 23(2): 361-375; Allison, TF., Andrews, PW., Avior, Y., Barbaric, I., Benvenisty, N., Bock, C., Brehm, J., Brüstle, O., Damjanov, I., Elefanty, A., Felkner, D., Gokhale, PJ., Halbritter, F., Healy, LE., Hu, TX., Knowles, BB., Loring, JF., Ludwig, TE., Mayberry, R., Micallef, S., Mohamed, JS., Müller, FJ., Mummery, CL., Nakatsuji, N., Ng, ES., Oh, SKW., O'Shea, O., Pera, MF., Reubinoff, B., Robson, P., Rossant, J., Schuldt, BM., Solter, D., Sourris, K., Stacey, G., Stanley, EG., Suemori, H., Takahashi, K., and Yamanaka, S. (2018) Assessment of established techniques to determine developmental and malignant potential of human pluripotent stem cells. Nature Communications 9(1): 1925; Takahashi, K., Jeong, D., Wang, S., Narita, M., Jin X., Iwasaki, M., Perli, S.D., Conklin, B.R., and Yamanaka, S. (2020) Critical Roles of Translation Initiation and RNA Uridylation in Endogenous Retroviral Expression and Neural Differentiation in Pluripotent Stem Cells. Cell Reports 31(9), 107715; Shinya Yamanaka. (2020) Pluripotent Stem Cell-Based Cell Therapy-Promise and Challenges. Cell Stem Cell 27(4), 523-531.
Professional Address
Kyoto University
Center for iPS Cell Research and Application
53 Kawaharacho, Shogoin, Sakyo-ku
Kyoto 606-8507
Japan