Former Academicians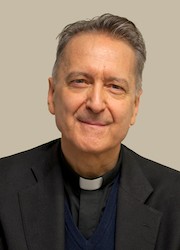 Most important awards, prizes and academies
Member of the Accademia di sant'Ambrogio since its foundation on 24 April 2003; Association International des Études Patristiques (AIÉP); Associazione Italiana di Studi Bizantini (AISB); Honorary Degree as Doctor of Humane Letters from St Ambrose University in Davenport (Iowa, USA) on 2 December 2012; Honorary Degree from the Universidad Católica de Cuyo (Argentina) on 28 March 2017.
Main publications
Vita di S. Filippo d'Agira attribuita al monaco Eusebio. Introduzione, edizione critica, traduzione e note, Roma, Pontificium Institutum Orientalium Studiorum, 1981 (Orientalia Christiana Analecta, 214); Le fonti greche su sant'Ambrogio, Milano-Roma, Biblioteca Ambrosiana – Città Nuova Editrice, 1990 (Tutte le opere di sant'Ambrogio. Sussidi, 24/I); Ambrogio di Milano. Azione e pensiero di un vescovo, Cinisello Balsamo, San Paolo, 1996, 19972 (Grandi biografie, 6) [English translation: Ambrose of Milan. Deeds and Thought of a Bishop. Translated by Robert L. Grant, Staten Island (New York), 2013]; Manoscritti e frammenti greci dell'Ambrosiana. Integrazioni al catalogo di Emidio Martini e Domenico Bassi, Roma, Università di Roma "La Sapienza", 1997 (Testi e studi bizantino-neoellenici, 9); Inventario agiografico dei manoscritti greci dell'Ambrosiana, Bruxelles, Société des Bollandistes, 2003 (Subsidia Hagiographica, 84); Bibliografia dei manoscritti greci dell'Ambrosiana (1857-2006), Milano, Vita e Pensiero, 2007 (Bibliotheca erudita, 30); I Padri della Chiesa. Il Cristianesimo delle origini e i primi sviluppi della fede a Milano, Busto Arsizio, Nomos Edizioni, 2010 (Ecclesia, 1); Carteggio Ceriani-Mercati 1893-1907. Introduzione, edizione e annotazioni a cura di Cesare Pasini con la collaborazione di Massimo Rodella, Città del Vaticano, Biblioteca Apostolica Vaticana, 2019 (Studi e testi 531).
Professional Address
Biblioteca Apostolica Vaticana
00120 Città del Vaticano